For the first time on a mid-engined sports car, Ferrari has employed an active aero device for generating downforce rather than mitigating drag. Based on that used by the LaFerrari, the active rear spoiler integrated into the rear bumper is said to generate up to 360kg of downforce at 155mph with the hardcore, track-oriented Assetto Fiorano pack specified. Even in standard guise, it produces 100kg more than its predecessors. 
Various defining design cues promote a visual relationship with other new-era Ferraris, including the SF90 Stradale and Roma, while distancing the new arrival substantially from the F8 Tributo and its closely related 488 GTB forebear.
However, Ferrari also claims to have taken inspiration from classic models including the 1963 250 LM, which inspired the design of the B-pillar, rear haunches and Kamm tail. The wraparound windscreen, meanwhile, is a cue borrowed from the one-off P80/C and the Japanese-market J50.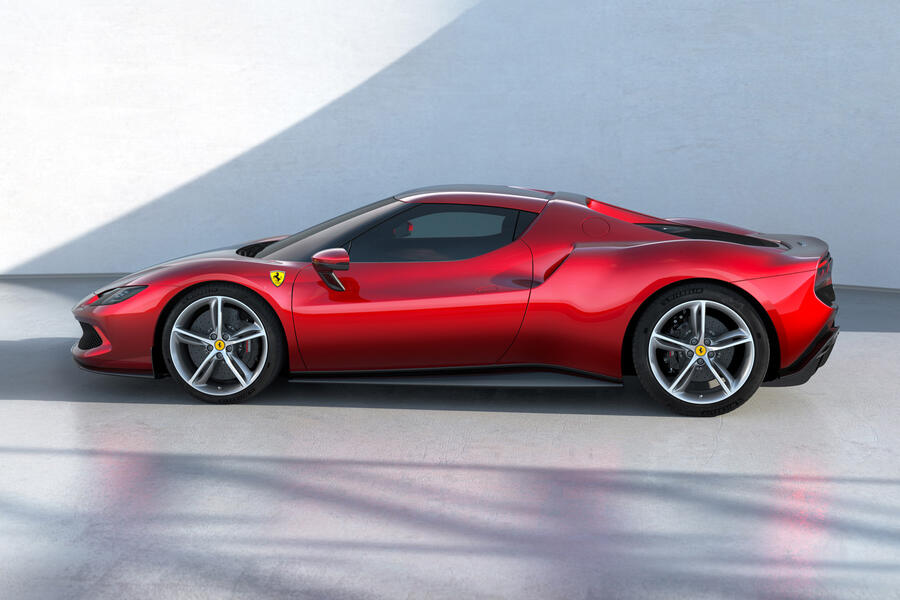 The air intakes were made as small as possible (for a cleaner look) by routing hot air underneath the car, meaning it's kept separate from the cool air needed for the rear-mounted intercoolers, while the hybrid system's radiators vent to the rear, so the front of the car could be aerodynamically optimised with a more tapered design than used previously.
A raft of downforce-enhancing tweaks were made possible, too, by the use of the 'Aero' brake calipers inspired by those on the SF90 Stradale. They're cooled via ducts integrated into the headlights, thus freeing up room for the central section of the car's underbody to be brought as low to the ground as possible and thereby "exaggerating the suction created as a result of ground effect".


Read More: New Ferrari 296 GTB: 819bhp PHEV brings back V6 power

2021-06-24 15:11:15