In the summer of 2020, Matt Choon sat in his Brooklyn apartment surrounded by piles of boxes of CBD gummies and bags of designer clothing. He spent years trying to turn his e-commerce business Potion from a passion project into a sustainable revenue source, trekking through snow to beg bodegas to sell his products and throwing house parties just to get photos of guests with his brand's logo. But collaborators had come and gone, and now it was just 24-year-old Choon, his roommate and a recently laid-off neighbor he hired to help with shipping Potion orders.
In an effort to really ramp up the business, Choon turned to TikTok.
Suddenly, a few videos of the gummies and clothing at pop up shops and street fairs with captions like "secret vintage designer pop up in NYC" changed everything. He watched as videos racked up thousands of views and lines formed down the streets.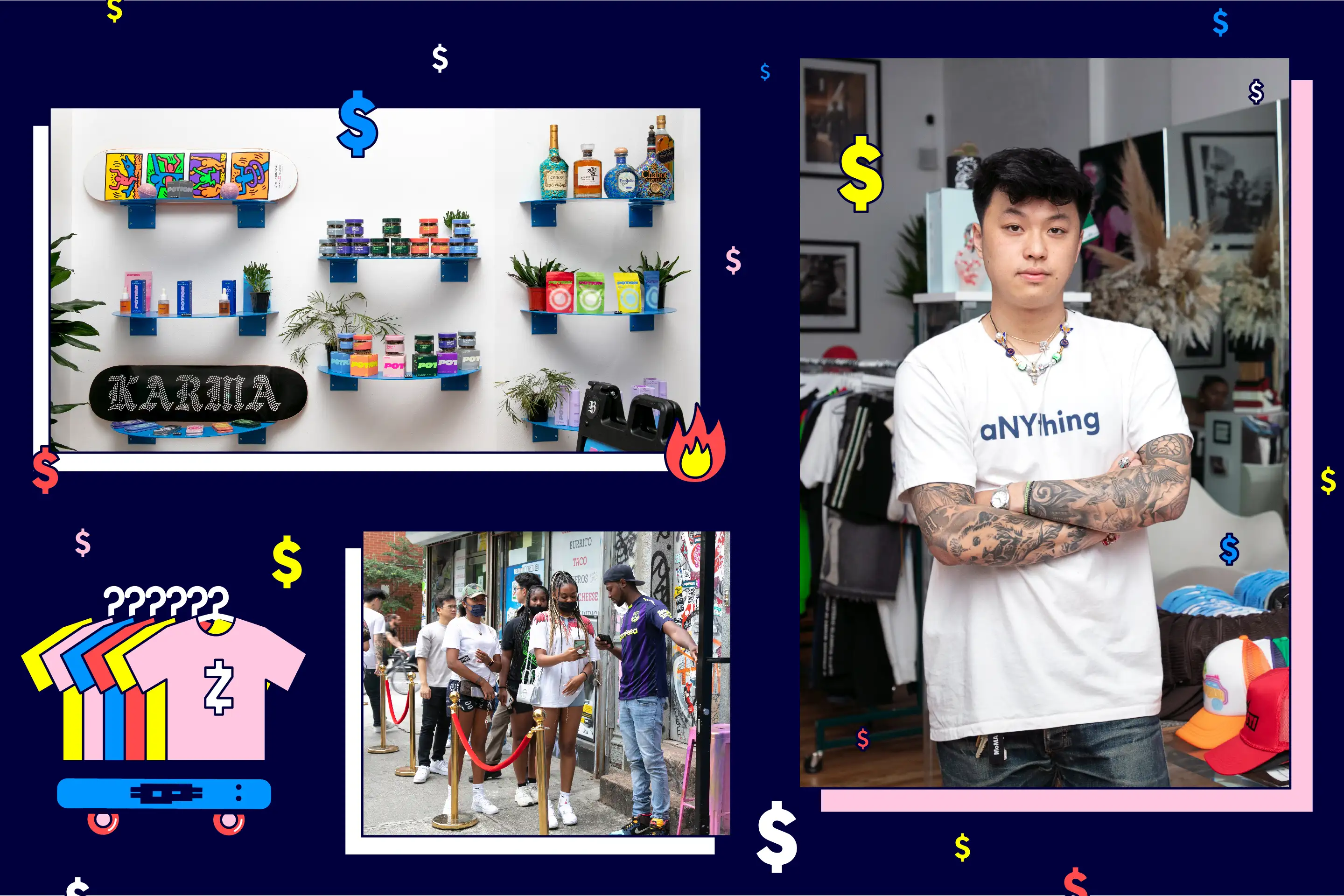 Money; Vanessa Garcia for Money
Choon funded Potion, which is described as a hemp and cannabis brand, with his cryptocurrency investments — and just a few months after those first TikToks, he had a full-fledged retail space in Manhattan's Lower East Side. The Bowery Showroom is a CBD dispensary selling Potion products and clothing boutique featuring up-and-coming designers that pitch Choon their brands; it's also a cultural hub for Gen Z creatives to host workshops and art installations. The walls are covered with art visitors can use to create backgrounds for their own social media posts, including a movable, puzzle-like display made out of carpet and a mirror you can write directly on with markers. Gen Zers waste no time pulling out their phones, filming videos of themselves exploring the shop and posing with friends. Choon and his team have made well over six figures since the store opened in late April.
"We just needed something that could show people beyond our immediate network what we were doing, and that ended up being TikTok," says Choon, who was raised in downtown Manhattan. "An app for kids and cringey dance moves ended up being so much more than that."
You're probably thinking: a 24-year old who built his success off of cryptocurrency, CBD and TikTok? That's one in a million. A lucky guy who took advantage of a fad. But Choon is on the older cusp of Gen Z, a generation of those born after 1996 that are completely rewriting what it means to make money and invest in their futures. Gone are the days of taking jobs at summer camp or as a babysitter, squirreling away cash in a piggy bank and waiting until someday a company offers you a 401(k). This extremely online generation learned to manipulate Instagram and YouTube algorithms to get side gigs and start their own businesses. They're at the forefront of an investing landscape dominated by day trading and meme stocks. Words like non-fungible token and Ethereum are just a natural part of their vocabulary.
It makes sense that a population which grew up in the shadow of the 2007 financial crisis and has now survived the COVID-19 recession would want to write their own money rules, all while showing that they care about the environment and companies' ethics.
They're working really hard to build wealth in new ways that feel ultra necessary for these post-pandemic times. The hard thing? Figuring out if it will last.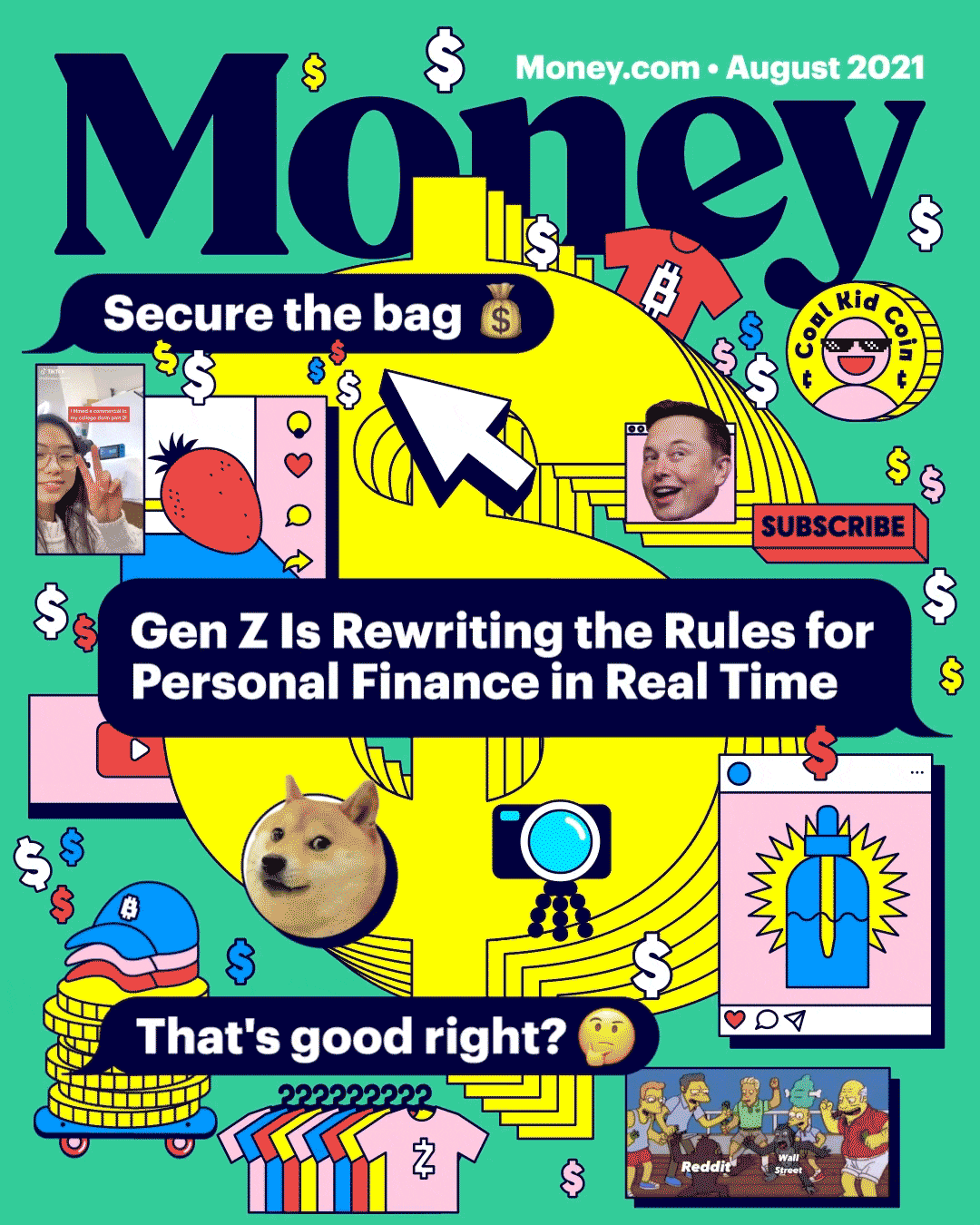 'These strangers have become my mentors'
Growing up in a two-bedroom apartment with her parents and younger brother, Diana Guardado was aware that her family didn't have a lot of money. As a kid, she wanted a Barbie that all her friends had. Her mother made it clear that wasn't in the cards.
"I adopted this very weak relationship with money because I never had it," Guardado says.
That didn't stop the 19-year-old from setting the goal of buying a house and retiring before age 30.
Guardado didn't have anyone to teach her about investing, so when she turned 18 she opened a brokerage account and got to work. She pored over videos of YouTubers like Our Rich Journey and Wealth Nation and spent hours on Public.com — a trading and social…


Read More: How Gen Z Is Rewriting the Rules for Personal Finance

2021-07-21 15:02:31