The S&P 500 index sold off sharply for the second time this month. The decline of 70 points on July 7 and July 8 paled in comparison to the 140-point loss of July 16 and July 19. However, in both cases, the S&P
SPX,
+0.06%
snapped back immediately. Currently, SPX has support at 4233 (the lows of July 19) and has resistance at 4393, the July all-time highs. Below there, support exists at 4165 and 4060, the lows of June and May, respectively.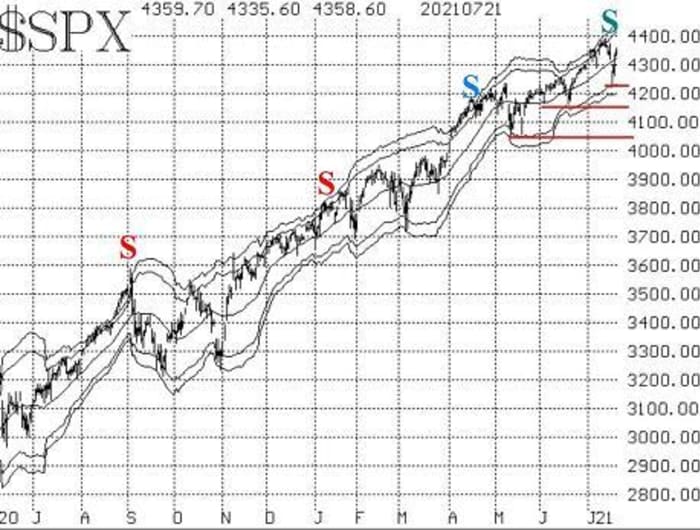 The spike downward on July 19 solidified a new McMillan Volatility Band (MVB) sell signal. It is marked with a green "S" on the SPX chart. The MVB sell signal would be stopped out by SPX moving above its +4σ "modified Bollinger Band," and the signal would reach its downside target by trading at the -4σ Band. Neither of those Bands is near current prices, since realized volatility has expanded during the recent broad market selloff and recovery.
Technically, a realized volatility sell signal has occurred as well. That is, the S&P's 20-day Historical Volatility (HV) had previously fallen below 8% and now has risen to 11%. But now it's just sitting at 11%. If the sell signal is to be productive, it would seem that the 20-day HV needs to move higher.
Equity-only put-call ratios have been on sell signals since roughly July 1. That is, they have been rising since then. However, after two very strong days of stock-market action, call buying has returned with a vengeance, and these sell signals appear to be weakening – to the naked eye.
However, the computer programs that we use to analyze these charts continues to rate them as "sell." So for now, these sell signals remain in place.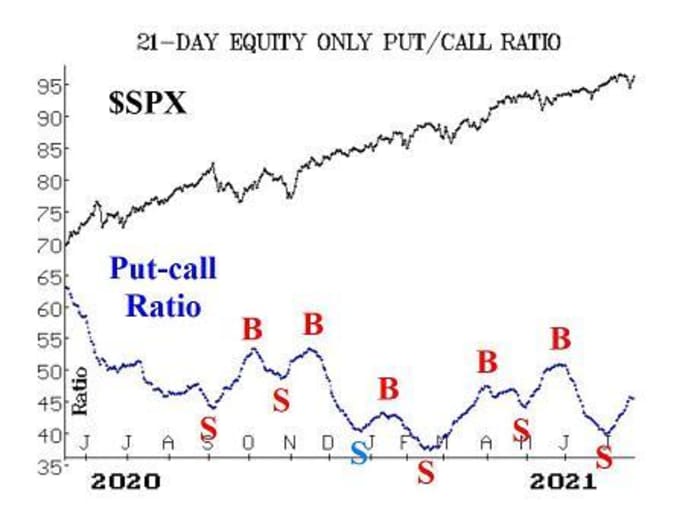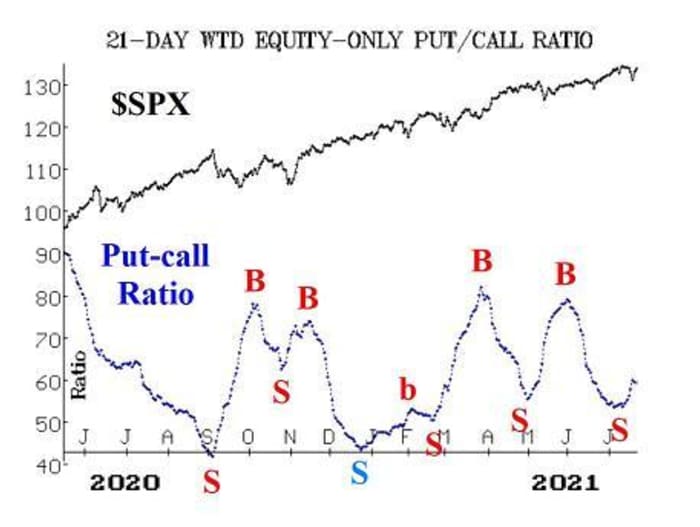 An area of the market that has been giving the most bearish signals of late has been market breadth. In fact, it has been deteriorating since June 16, when the first sell signal was issued from the breadth oscillators. By the time the market closed on July 19 – at the most recent lows – breadth had descended into a massive oversold state that had not been seen since March 2020.
However, with the two very strong days that have followed, both the "stocks only" and the NYSE-based breadth oscillators have given buy signals. This is encouraging, although it should be noted that on July 9 – after the previous selloff this month – these same oscillators bounced back into buy signals, but those proved to be very short-lived, last only a couple of days.
Regardless, the oscillators are now on buy signals. Another breadth-related indicator, the "oscillator differential," has also given a buy signal.
The deterioration that we saw in the breadth oscillators was telling us that, beneath the surface – in the Russell 2000 index
RUT,
-1.43%
IWM,
-1.35%,
for example – things were far worse than one would suspect by merely looking at the S&P. In fact, IWM declined 8% from late June through July 19. It bounced back somewhat since then, but not nearly as strongly as SPX has. So, there is still a divergence in the market, and that is still a warning sign; do not ignore sell signals while this divergence is in place.
On the NYSE, new 52-week highs continue to stay ahead of new 52-week lows. A sell signal would be generated if new lows exceed new highs and the number of new lows is greater than 100. That almost occurred on July 19, but it did not. So this indicator is clinging to buy signal as far as stocks are concerned.
Implied volatility has generally remained positive toward stocks. Yes, VIX
VIX,
+1.40%
did spike on July 19, stopping out the previous VIX "spike peak" buy signal. But the very next day, VIX spiked back down again, thereby generating a new "spike peak" buy signal. This one-day stop-out has been the "norm" for the last couple of months, but certainly has not been over a longer-term historical period. That is, these signals usually take much longer to set up.
The trend of VIX remains downward, and that is bullish for stocks. Yes, VIX did pop up above its declining 200-day Moving Average on July 19, but that alone is not a change of trend. VIX and its 20-day MA would have to rise above the 200-day to complete a chance of trend. That is not even close to happening, as the 200-day and the (rising) 20-day remain almost five points apart.
The construct of volatility derivatives is bullish for…


Read More: Opinion: This chart combination is bullish for the stock market

2021-07-22 15:02:00