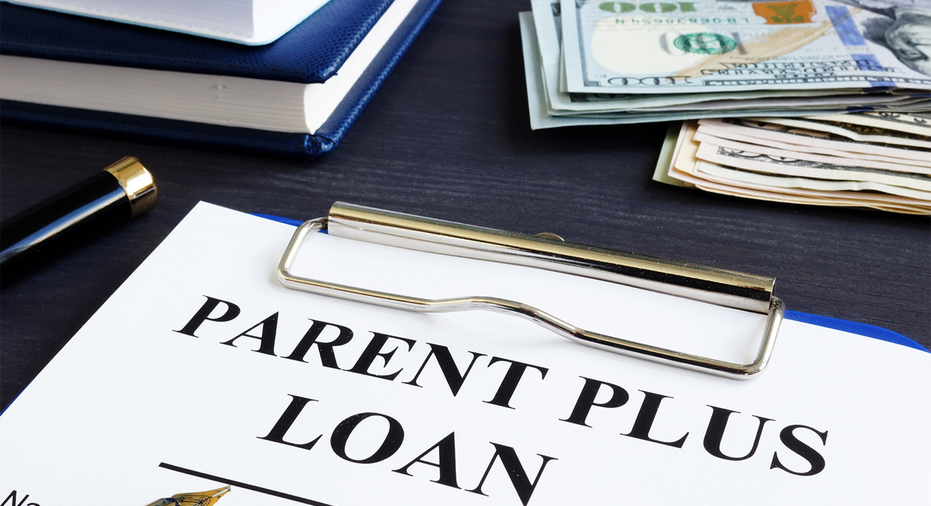 If your child's financial aid doesn't cover the full cost of their higher education, and you don't want them to graduate with student loan debt, you may consider taking out loans yourself. 
Parents willing to be primary borrowers on student loans have two main options: federal parent PLUS loans and private loans. 
Parent PLUS loans generally offer more generous repayment plans, courtesy of the U.S. government. But if you have a solid credit score, private loans may help you save money in the long run. 
To help you decide which option will work best for your family, here's a full breakdown of parent student loans. 
What is a parent PLUS loan?
Parent PLUS loans are student loans available through the U.S. Department of Education for parents of dependent undergraduate students to pay for their educational expenses. Parents are able to borrow up to the full cost of attendance, minus any other financial aid the student receives. These loans have fixed interest rates.
What is a private student loan?
Private student loans are issued by private lenders to pay for higher education. They're not backed by the U.S. government. 
Each lender will have its own guidelines for who is eligible and terms can vary. Some lenders have specific student loan programs for parents who want to help pay for their child's college education.
You can learn more about private student loans, and compare rates from multiple lenders, through Credible.
Parent PLUS loans vs. private student loans 
Parent PLUS loans and private student loans have a number of similarities but some key differences as well. We'll go into more detail on these later on but here are some of the main ones to consider.
Primary borrower — In both cases, the parent of a dependent undergraduate student is typically the primary borrower. But federal parent PLUS loans are strict about it — only biological or adoptive parents are eligible (grandparents are not). Many private parent student loan programs allow anyone to borrow on behalf of a student.
Lender — The federal government is the lender on parent PLUS loans. Private companies issue private student loans to parents.
Cosigner requirement — Parent PLUS loans may require a cosigner, while private loans for parents typically don't. Parent PLUS loans require an "endorser" if the parent has things like significantly overdue loan balances or bankruptcies in the recent past. Private parent loans generally go to borrowers with healthy credit, and it might be difficult to qualify for one with less-than-perfect credit. But some programs do allow cosigners.
Interest rate type — Parent PLUS loans offer only fixed interest rates. Private loans may be either fixed-rate or variable-rate loans.
Repayment term — The repayment periods on federal PLUS loans differ based on your repayment plan. Standard repayment plans have 10-year terms, though extended repayment plans are available for up to 25 years. Private loans typically have terms between five and 15 years.
Origination fee — Parent PLUS loans have an origination fee of 4.228%. While private lenders may charge fees if they want to, many don't.
Cost comparison of parent PLUS loans vs. private student loans
Lifetime costs are another significant difference between parent PLUS and private student loans.
Parent PLUS loans carry a fixed interest rate. Rates on private student loans for parents vary and can be either fixed or variable. Typically, if you have excellent credit, you can get a lower interest rate on a private loan than you might get on a parent PLUS loan. That means you'll pay significantly less on a private loan over time. 
Here's an example comparing the total costs of a parent PLUS loan versus a private student loan for parents from the lender College Ave, a Credible partner. For sake of comparison, we'll stick to fixed interest rates, a standard repayment plan with a 10-year repayment term.
Parent PLUS loan: $25,000 (principle) + $1,057 (loan fee) + $8,729.52 (total interest cost at 6.28%) = $34,786.52
College Ave private parent loan: $25,000 (principle) + $0 (loan fee) + $4,441.33 (total interest cost at 3.34%) = $29,441.33
In this scenario, you can see the parent who borrows from College Ave will save $5,345.19 in interest costs over the life of the loan.
If you have excellent credit, you'll likely pay significantly less for a private loan. But there are plenty of scenarios in which parent PLUS loans can be a better deal. 
If you don't have excellent credit, you might not qualify for a private lender's best rates. Their offer may be higher than the fixed rate on a parent PLUS loan. Parent PLUS loans also offer longer repayment terms, which reduces the monthly payment. You might need that to fit into your budget.
When parent PLUS loans or private student loans might be best for you
The best loan for you will depend heavily on your personal financial situation, and it may be worth exploring both options before deciding on a loan to fund your child's education. Here are a few situations in which one is typically better than the other.
Situation one: If you have fair credit
If your credit score falls in the fair range, you…


Read More: Parent PLUS loans vs. private student loans: Which has better rates?

2021-07-22 14:46:56