This upper-class aura continues on the move, where it's clear that Skoda has prioritised comfort and quietness, which is no bad thing. Rolling refinement is remarkably good, the suspension issuing only a muffled thump over the severest bumps, while road and wind roar are only noticeable at higher speeds.
It rides typically broken British asphalt well, the softish suspension keeping everything on an even keel with just the merest hint of relaxing float over bigger undulations. The upshot of this suppleness is some roll in corners, but the damping control is tight enough that the movement is always well controlled.
The steering is light and lifeless, but it's quick and the Fabia clings on gamely, carving satisfyingly precise lines through bends, taking on a nicely balanced four-square stance. It can't raise smiles and spirits like the Ford Fiesta, but it's a polished performer that lets you cover ground at a serious lick when you need to.
If there's a disappointment, it's our car's combination of a 109bhp turbocharged 1.0-litre triple and a seven-speed dual-clutch gearbox. When mooching it's fine, the engine is nicely isolated and the DSG shuffles its ratios with syrupy smoothness. Yet it has also clearly been WLTP-trained to hold onto the highest gear possible for the longest time feasible, which combines with the TSI's low-rev torpor (peak torque comes 400rpm later than in the 94bhp car) for sluggish response.
Sport driving mode sharpens things up a little, and once you wind it up, the TSI goes reasonably hard. But around town, it lacks the vim and vigour that you would expect of a car that surely will spend more of its time within city limits than without. The six-speed manual is a better bet.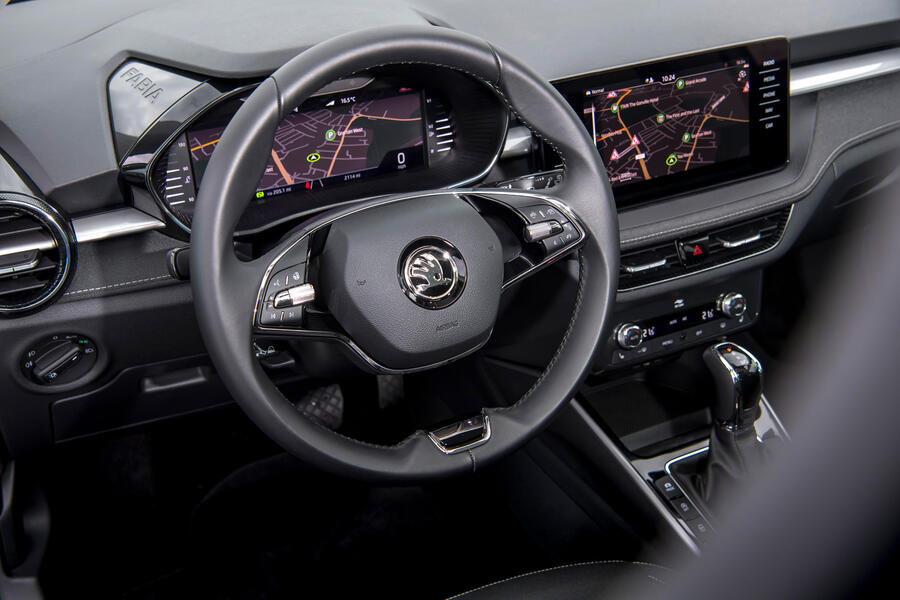 Read More: Skoda Fabia SE L 1.0 TSI 2021 UK review

2021-10-11 23:05:15