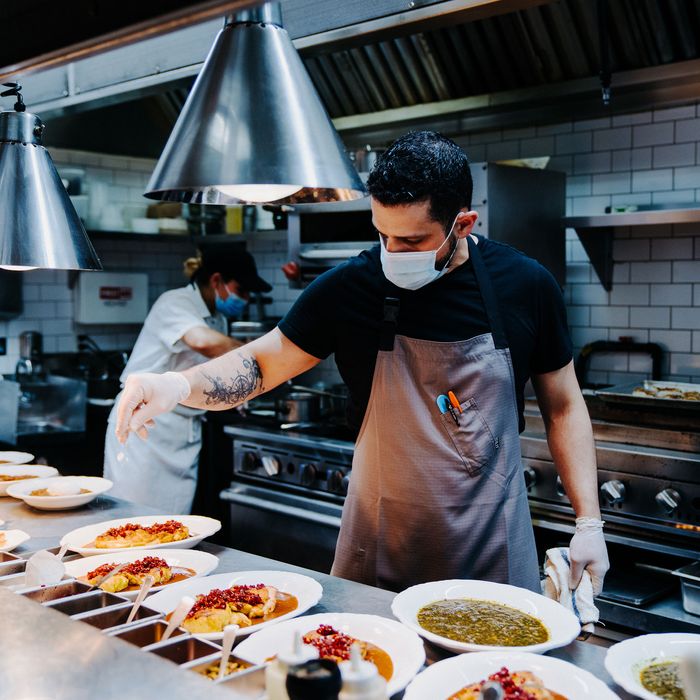 Chef de cuisine Ali Saboor, cooking in Brooklyn's Sofreh.
Photo: Janice Chung
Every restaurant opening experiences unintended delays, but when Nasim Alikhani and Akis Petroulas signed a lease at 252 Varet St. in Bushwick, they couldn't have known that their new teahouse, Sofreh Café, would end up being delayed for more than a year because, well, the entire world was about to transform completely. The couple, like many restaurant owners, pushed through, and last month, Sofreh Café opened for business. In Alikhani's mind, there was no other choice. "We had to open," she says. "You sign a lease, you have construction, you have to move on. It's not like myself or my team can afford to say, 'Hey, we are in a pandemic!' We are paying rent with no customers for one full year."
That's not to say it was easy or straightforward. "It's been a struggle to keep going," Alikhani says. "Not only just in terms of finances, but also to keep the hope and the momentum." If that sense of urgency is familiar to thousands of restaurant owners across New York City, it was new for Alikhani and Petroulas, whose first restaurant — which they named Sofreh, the Persian word that refers to a patterned cloth on which a meal is served, as well as the gathering itself — was the result of decades of forethought.
"I'm a planner," Alikhani concedes, "but there's one lesson I learned from a year and a half of continuous adjustment: I am no longer planning. I only manage what I can see and what I can do." What was her strategy for navigating 2020 and 2021, trying to keep one restaurant in business while simultaneously launching another? "It was just a shock to me, the whole thing," she says, "and we kept rolling with it."
Now they have two businesses, with a third on the way, but they could just as easily have none. Every restaurant owner has been forced to endure the pandemic in their own way; Sofreh's story is, in many ways, the same — a scramble to adjust to ever-changing conditions and realities that shattered any sense of security we might have held before — and yet it remains unique to this restaurant and the people who built it and worked there.
Nasim Alikhani planned for years before finally opening Sofreh.
Photo: Janice Chung
In January of 2020, Alikhani had flown back to the United States after a two-week trip to visit family in Isfahan, Iran. At the time, life still looked mostly normal in both countries, but Iran was running slightly ahead of the U.S. on the global-pandemic timeline, and it wasn't long before Alikhani's sister-in-law, a doctor, began to tell her stories from her country's hospitals. A sense of dread began to creep over Alikhani. "Things are coming back to us," she told her husband, Petroulas. "We need to be prepared."
The couple debated closing Sofreh even before New York State's first confirmed case of COVID-19 arrived that March. When it turned out to be another woman who had just returned from Iran, Alikhani decided she couldn't risk closing, worried that people would wrongly infer some connection between this Iranian woman and her Iranian restaurant.
From the time it opened in 2018, on the ground floor of a brownstone in Prospect Heights, Sofreh was a sensation as much for its food as for its remarkable story. Alikhani came to the U.S. in her early 20s in the wake of the Iranian Revolution. It wasn't until she was in her mid-40s that she started to think seriously about opening a restaurant. In 2012, she and Petroulas bought the building on St. Marks Ave., just off Flatbush, that would become Sofreh. It took another six years to build. Alikhani was 59 when Sofreh finally opened, and the first reviews made up for any lost time. Alikhani's dining-room presence was "intuitive." Her ghalieh mahi — a traditional fish stew — was "hypnotically complex." A night at the restaurant could feel like "a giant dinner party" thrown in Alikhani's home.
The early attention also made Sofreh a desirable place to work, but as the pandemic began to take hold in America, the staff started to grow uneasy. "People were calling out because they're like, I don't feel safe," says one longtime server. Meanwhile, she picked up every shift she could. "I was actually more concerned about not having money than I was about getting sick, which is maybe something to talk about with a therapist," she says. "I was just like, I need to stack as much as I can before everything goes down."
Finishing a plate of roasted cauliflower.
Photo: Janice Chung
Alikhani advised workers to gargle with mouthwash before bed, and, because people still thought the virus spread through surfaces, she placed buckets of diluted bleach around the restaurant. After every task, she told the staff, they should submerge their hands to kill the germs. "We're just like, That sounds awful," recalls Samantha, who worked as a manager at the time (and asked not to be identified by her last name). "How about we just close?"…


Read More: How the Restaurant Sofreh Survived the COVID-19 Pandemic

2021-10-19 14:20:12