The bright illuminations and chaotic sounds of amusement arcades are an essential part of the British seaside experience, but the lights could soon start going out as owners warn of eye-watering energy bill increases of up to 1,000%.
The jump in costs driven by soaring wholesale gas prices has had a severe impact on a sector that has barely recovered from Covid restrictions, leaving many operators looking at slashing their opening hours or closing completely.
"The severity of the electricity crisis is the main challenge we are facing in the industry," says Jeremy Godden, who owns arcades in the Kent resorts of Margate, Ramsgate and the Isle of Sheppey. "Everything we use in a seaside arcade demands a lot of power, more so than other retail or leisure businesses."
The 32-year-old Margate resident expects his annual costs to rise by £200,000 at the end of his current electricity contract, an increase that is "not sustainable" and which comes on the back of multiple challenges in recent years.
"The lack of labour, the unknowns and financial pain from Covid – everything in the economy is fragile, but the energy crisis and spiralling costs could be insurmountable for my business," Godden says. "We are sat here looking at how we can survive.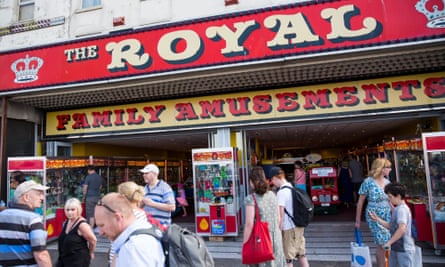 "For the first time ever, we are looking at closing from Monday to Friday and opening at weekends. We have always opened every single day of the year apart from Christmas Day."
Everything in an amusement arcade – from the popular 2p-coin pushers to the claw games where you can try to snatch a stuffed animal – require "a lot of power", says Godden, yet the maximum stake and maximum prize allowed for arcade machines is fixed by the Gambling Commission or by the mechanism itself. So, unlike in other industries, they are limited in how much can be recovered through price rises when costs such as electricity surge.
The government's energy bill relief scheme for businesses, announced by Liz Truss in September, has provided some respite, covering the difference between wholesale prices and a "government-supported price" of £211 a MWh for electricity and £75 a MWh for gas.
This week the chancellor, Jeremy Hunt, confirmed the scheme would be extended from 1 April for another year, but at a significantly reduced level as part of a "transitional support" package worth up to £5.5bn, prompting warnings of job losses and blackouts.
Some hope has been raised by the fact that wholesale gas prices have eased back from the huge spike that followed Russia's invasion of Ukraine, but bills remain about three times higher than before the crisis began in autumn 2021.
Godden says continued support from the government scheme is "essential" not only for his own businesses, but for the bars, restaurants and other firms in resorts. "I've spoken to other leisure operators in Margate and I have not come across one who is not concerned about future energy costs."
While the seaside prides itself on its reputation for fun, it is a serious player in the UK economy, with trips to the coast making up 18% of all overnight spending in England in 2021, according to the Great Britain Tourism Survey. Between April and December, 17m trips were made to coastal areas, the VisitBritain research found.
As well as being a key attraction drawing those millions of visits, arcades contribute a turnover of £845m across the UK – including those inland – according to research commissioned by the British Amusement Catering Trade Association (Bacta). The industry body estimates that increased energy costs have left the sector, which employs 20,000 people, with a £300m bill.
John White, Bacta's chief executive, says business owners have told the association that their primary concern is energy bills, with some facing increases as high as 1,000%.


Read More: Game over: UK arcades face closure threat as energy bills soar by 1,000% | Travel &

2023-01-13 19:28:00