ITV said its streaming hours jumped 55% in the first month of its new service ITVX, launched to compete with Netflix, Disney and Amazon, boosted by viewers tuning in to watch World Cup football and the hit drama A Spy Among Friends.
The broadcaster, which has committed more than £800m over the next four years in a belated attempt to create a national streaming champion fit for the Netflix era, also said ITVX's online users rose by 65% year on year in the month after its official launch on 8 December.
The service replaces the ITV Hub service, which offered an outdated user experience and had an embarrassing history of crashes when livestreaming major sporting events.
ITVX held up to the strain of millions of viewers tuning in for key World Cup matches, such as England's narrow defeat by France in the knockout stages, with the tournament underpinning the year-on-year jump in performance.
"It is great to see so many new viewers coming into ITVX," said Carolyn McCall, the ITV chief executive. "The football World Cup has been an important part of that."
McCall, who needs a win with investors as she struggles to bolster a share price that is more than 50% lower than when she joined as CEO five years ago, also said its strategy of spending £160m a year on exclusive content for ITVX looked likely to pay off. Shares were up almost 3% on Friday.
Removing the impact of World Cup viewing, ITV said that hours streamed on ITVX were up 29% year on year in the month to 7 January.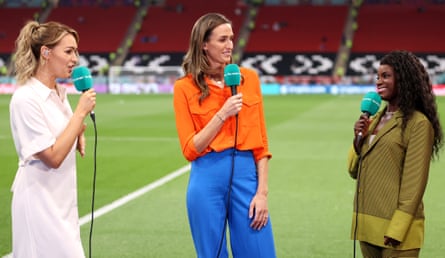 Among the series to launch on ITVX were the period drama The Confessions of Frannie Langton; the six-part cold war drama A Spy Among Friends; and Riches, a drama about the super-rich.
"We continue to see strong year-on-year growth in January," McCall said. "Away from live streaming, viewers have welcomed our strong slate of commissioned launch titles exclusive to ITVX, with many viewers coming from harder-to-reach audiences."
Importantly, McCall said the free ITVX service had proved to be a popular drawcard with advertisers.


Read More: ITVX enjoys strong first month thanks to A Spy Among Friends and World Cup | ITV

2023-01-13 12:36:00